Nintendo Wii Mini Spellen
De Nintendo Wii mini spellen staan erom bekend. De kleine spelletjes die je erop kunt spelen zijn super leuk. Leuk met je vrienden of familie want iedereen komt aan bod en er is gezonde rivaliteit. Dat zijn de minigames voor de Wii.
Op zoek naar Nintendo Wii Mini Spellen?
Doorzoek eens onze categorie met minigames. We zetten ze namelijk voor jou bijelkaar zodat je niet ver hoeft te zoeken. Hoewel elke game veel mini spellen bevat, is het toch wel eens leuk om weer eens een heel nieuw spelletje te kopen. Zo kun je bijvoorbeeld afwisselen en raak je nooit uitgekeken op de vele mogelijkheden die ze hebben. Voor elk wat wils, dat zeggen ze ook wel eens. Zo heeft iedereen er vaak wel een game bij zitten war hij of zij goed in is en zo de rest ook eens kan verslaan. Het is in ieder geval leuk om eens de competitie aan te gaan in dol dwaze spelletjes op de nintendo console. Plezier op een regenachtige dag als je toch binnen gaat zitten en leuk om met de kids mee te doen!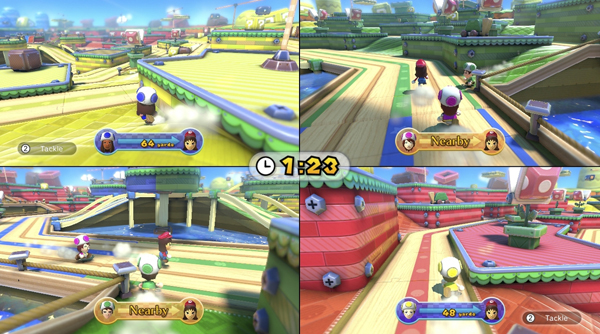 Nintendo Wii mini spellen zoals die met Mario
De bekendste zijn misschien nog wel de Mario Party games. Daar kun je je echt eindeloos mee vermaken zonder dat het vervelend gaat worden. Samen over het speelbord lopen, van minigame naar mini spellen lopen en proberen je broertje of je pa te verslaan. Leuker kan eigenlijk niet dan met deze wii mini spellen 🙂
Welkom Nintendo Gamer,
en we hebben meer dan

120 verschillende Nintendo Wii mini spellen

op voorraad.